Be Shark Smart
Posted by Michelle on Fri November 24, 2017 in
Fish Hoek
.
With summer approaching many people descend on beaches around South Africa.  It is also the season for yellow tail runs in Cape Town.  All the sudden increased activity in the water lures curious sharks closer to shore to see what all the fuss is about.
The school holidays are around the corner and warmer days ahead, Capetonians and visitors should take extra care when going into the ocean.
Shark spotters and the Fish Hoek exclusion net are important safety measures, but the best precaution is to be alert and aware when in the water and to familiarise yourself and your family with the following safety measures:
Only use beaches where shark spotters and life guards are on duty. Take time to speak to The Shark Spotters and life guards.
If you are in Fish Hoek swim at the exclusion net.
Do not swim if birds,seals or dolphins are feeding.
Do not swim beyond the breaker.
Do not swim, surf or surf-ski where trek-netting, fishing or spear-fishing is taking place.
Do not swim if you are bleeding.
Do not swim near river mouths.
Do not swim, surf or surf-ski at night.
Do not swim, surf or surf-ski if there has been a whale stranding nearby.
When told to leave the water by life guards or shark spotters  - do so immediately.
For those you who kayak or surf-ski far out to sea, please consider paddling in groups and staying close together (in a diamond formation), Consider using a personal shark shield when you go surfing or kayaking and pay attention to any shark signage on beaches.
Surfers must be especially vigilant in the areas between Sunrise Beach and the Macassar Beach during the spring and summer months, as research has shown that shark presence in these waters is extremely common at this time of year.
Use the shark spotters signs to familiarise yourself with the four-flag warning system and warning siren.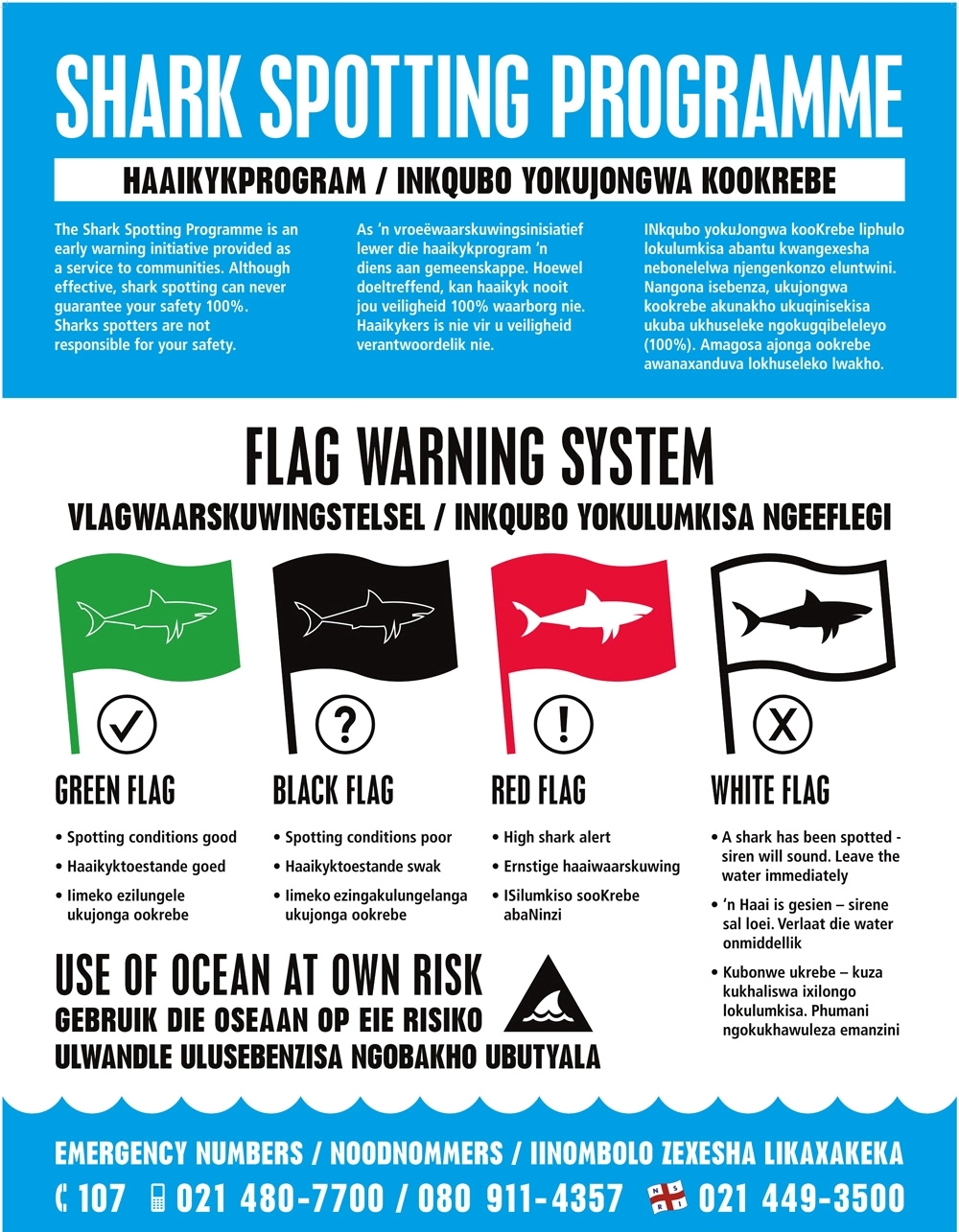 To assist beach goers with the latest information and safety tips this summer, the shark spotters information centre at Muizenberg Surfers Corner will be open from 8 am to 6 pm seven days a week.
The operating hours on the days the exclusion net will be deployed will be from 9 am to 5 pm and this may be extended to allow events or lifesaving training.
To see the up to date beach conditions for all beaches monitored by Shark Spotters, download the Shark Spotters app for Android and iOS.
Download the Android App      Download the iOS App
Great white sharks are always present in our waters.  They are amazing creatures that are often mis-understood.  When going into the sea we are going into their territory and need to be mindful of that.